| | | |
| --- | --- | --- |
| | Cyrenaica | |
Cyrenaica
Polish soldiers was very tired because of sustained campaign in Lybia. Unfortunately ,as it was mentioned, new tasks waited for them. Gen. Neil Ritchie ordered to protect northern part of Cirenaica from eventual airdrops ,naval-landings or enemy attacks from the desert. Only Carpathian Artilery Regiment was sent to Egypt for receiving new military equipment. On 22-th January 1942 gen. Kopański was ordered to organize defence of fort in El-Mechili and to protect British units. Fortunately there weren't any serious fights and on 3-rd February Carpathian Brigade was moved back to region of El-Ghazala. Polish soldiers kept defence positions and repulsed enemy attacks (especially from the air). This operations was very exhausting. For example from 25-th January to 12-th February Polish Brigade lost 14 soldiers killed and 44 injured. 7-months-long campaign in Lybian Desert was very exhausted for prople and military equipment. For instance in three Infantry Battalions remained 1340 soldiers instead required 2040. In addition health conditions of Polish soldiers was worsenig , however many of lightly injured escaped from hospitals and returned to the Brigade. Finally ,after many interventions , the decision was taken and Polish Brigade was sent for reorganisation.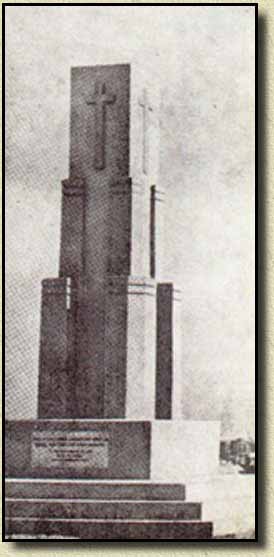 Polish Monument on cementary in Tobruk.
Offensive route of Carpathian Brigade .
From 15-th to 17-th March 1942 Polish soldiers were replaced by South-African 2-nd Brigade and marched out to the east. On 22-nd March Carpathian Brigade arrived to well known camp El-Amiriya near Alexandria and then from 19-th Aprill to 1-st May it was transported to Palestine. During campaign in North Africa Carpathian Brigade lost 156 soldiers killed, 476 injured and 15 missing. On 3-rd May Polish military units evacuated from Soviet Union join the Brigade and on 9-th May it was developed to 3 Infantry Carpathian Division. Later that division took part within 2 Polish Corps in Italy Campaign y from Sangro river via Monte Cassino, Ancona to Bolonia.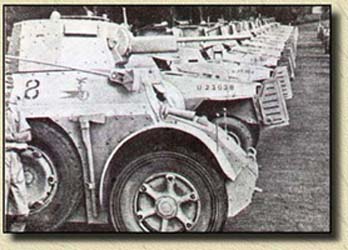 New armour equipment of Carpathian Artilery Regiment .
Designed by:  ©  P.Jaroszczak - Przemyśl 1999.